Where in the past fitness activities were limited to the sports field or the weight training at your local gym, today we are looking for new ways to challenge ourselves, both physically and mentally. As a result, activities that were once pushed to the periphery are now gaining mainstream attention, with fitness enthusiasts and gym goers shunning the bench press for indoor rock climbing and jiu jitsu. Don't believe us? Well, turns out even Tom Hardy is a fan.
As anyone who frequents the gym can attest, no matter how much progress you make in terms of gains, there comes a time when the mind (and body) craves spontaneity and variety. This makes the growing popularity of rock climbing cause for celebration, as not only does it pose a great challenge to your fitness routine, there are now more and more gyms to choose from across a wide range of places here in Australia.
Having made its debut at the 2020 Olympics, it seems clear that bouldering is not a fitness fad, but rather a sport that will only grow in size and popularity as more and more people are looking to get involved. Not only is it an activity that looks cool (scour the Instagram feed and you're sure to find friends or co-workers who frequent a bouldering room, impressing followers with a quick run through walls), but it also offers a full body workout.
Climbing, by its very nature, is a sport that requires endurance, strength, speed and problem solving. Your mind is very much in tune with your muscles here, and you have to tackle challenges as they arise. Research suggests that bouldering and rock climbing can increase muscular endurance and flexibility, as well as improve problem-solving skills, communication skills, and your mental health. And, given the nature of gyms, it's also a sport that will allow you to be part of a supportive community.
So if you're looking to update your fitness routine with a new activity that will deliver physical results as well as a mental challenge, here's our pick of the best rock climbing and bouldering gyms here in Sydney.
9 degrees
Located in Parramatta and Alexandria, this bouldering gym features 4.5m bouldering walls that give you the space to perfect your technique and hone your motor skills. There's also a specialist padded floor to make sure you're not afraid to launch yourself off the wall, as any mistake will result in a well-cushioned fall.
Address: Unit 11 Metro Centre, 38-46 South St Rydalmere, NSW, 2116
Contact: (02) 8872 1052 or [email protected]
Opening hours: Monday: 4pm–10pm, Tue: 10am–10pm, Wed: 10am–10pm, Thu: 10am–10pm, Fri: 6am–10pm, Sat & Sun: 8am–10pm
Address: Building 3/85 O'Riordan St, Alexandria, NSW, 2015
Contact: 0408 870 473 or [email protected]
Opening hours: Mon: 10am–10pm, Tue: 10am–10pm, Wed: 6am–10pm, Thu: 10am–10pm, Fri: 10am–10pm, Sat & Sun: 8am–10pm
Website: 9degrees.com.au
Sydney Indoor Climbing Gym
Offering a combination of indoor climbing and bouldering, the indoor climbing gym in Sydney presents the best of both worlds. The St Peters site is a sprawling space that even hosted the 2008 World Junior Championships, a testament to its incredible climbing walls and 800 square meters of bouldering. You'll be treated to 450 routes and 180 boulder problems, alongside friendly, encouraging staff who are always on hand to help.
Address: Unit 4C/1-7 Unwins Bridge Road, St Peters NSW 2044
Contact: (02) 9519 3325
Opening hours: Monday and Tuesday: 9.30am–10pm, Wednesday: 6am–10pm, Thursday: 9.30am–10pm, Friday: 9.30am–10pm, Saturday and Sunday: 9.30am–9pm, public holidays: 9.30am–7pm
Address: Unit 5 850 Woodville Road, Villawood NSW, 2163
Contact: 02 97282825 or [email protected]
Opening hours: Mon, Wed, Fri: 12 p.m.-10 p.m., Tue and Thu: 9:30 a.m.-10 p.m., Sat: 9:30 a.m.-8 p.m., Sun and holidays: 9:30 a.m.-6 p.m.
Website: indoorclimbing.com.au
Mount Oz
This indoor climbing and bouldering gym offers belay walls and a large bouldering area that can accommodate everyone. There are also private training sessions or group training, where you can hone your skills with experts in the field, while shoes, chalk and harnesses can be hired from the store for those who just want to get away with it. start climbing (before investing entirely).
Address: Level 2, 40 Third Ave, Blacktown
Contact: (02) 9678 9635
Opening hours: Monday: 5.30pm–9.30pm, Tue to Fri: 3pm–9.30pm, Sat & Sun: 9am–10pm
Website: climb.com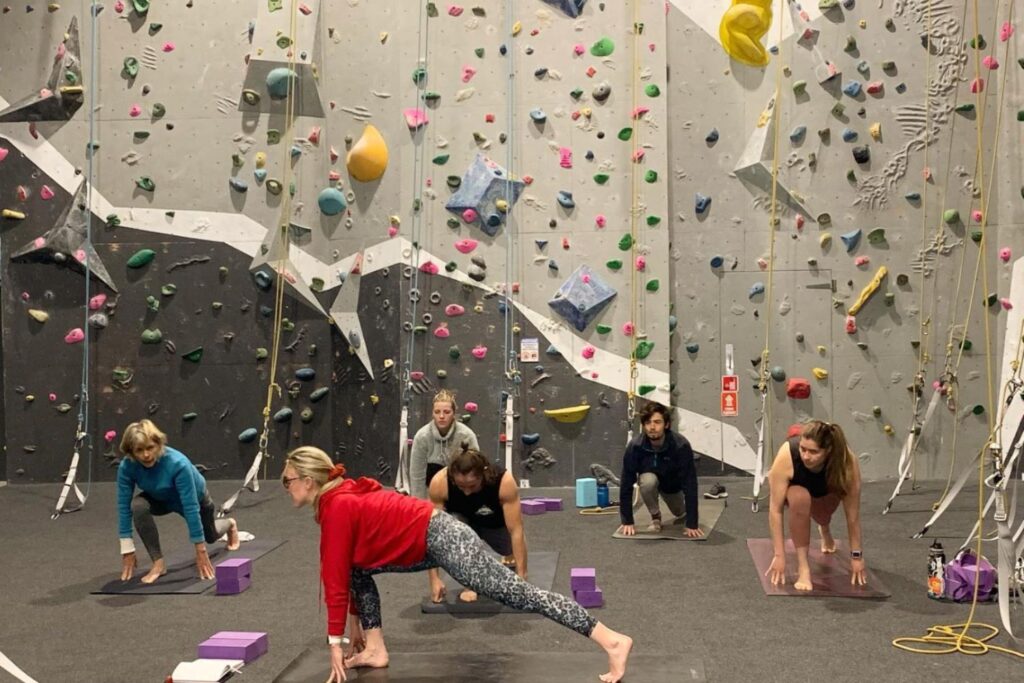 ClimbFit
Based in St Leonards, this climbing gym offers over 140 climbing routes. For those looking to perfect their technique, ClimbFit offers vari-angle climbing walls and a new 40° Moon Board that can help reinforce your movement, as well as three self-belays that you can use during training to you don't need to ask for help. To make things even better, there is even a conventional gym located next door.
Address: Unit 4/12 Frederick Street, St Leonards, NSW, 2065
Contact: (02) 94364600 or [email protected]
Opening hours: Monday to Friday: 6 a.m. to 10 p.m., Saturday and Sunday: 8 a.m. to 8 p.m.
Website: climb fit.com.au
BlocHaus Bouldering, Sydney
With over 850 square meters of climbing walls and problem solving, BlocHaus Bouldering offers the ultimate bouldering experience for those new to the sport or are seasoned pros. There's the added comfort of padded floors that are sure to allay first-timers fears, while friendly staff are always on hand to help. There's also a conventional gym with weights available if you want to do a pre- or post-workout push-up and work on strength.
Address: 49 Fitzroy St, Marrickville NSW 2204
Contact: (02) 8065 3299
Opening hours: Mon: 6am–10pm, Tue: 10am–10pm, Wed: 6am–10pm, Thu: 10am–10pm, Fri: 6am–10pm, Sat & Sun: 9am–10pm, Bank Holidays (excluding Christmas and New Year's Day) : 9 a.m. – 9 p.m.
Website: syd.blochaus.com.au